Transforming the Business Continuity Lifecycle into a Relational Database via Software As A Service (SAAS)
The ContinuSys BCMS application enables you to use MS-Word like text editing of your Business Continuity Plan and store the information in a relational database that is 100% in the cloud. The software is made up of 4 'stages'. The 4 'stages' contain 37 'modules', with the majority of these modules being comprised of 'Forms'. Each 'form' contains information that can be classified into different categories.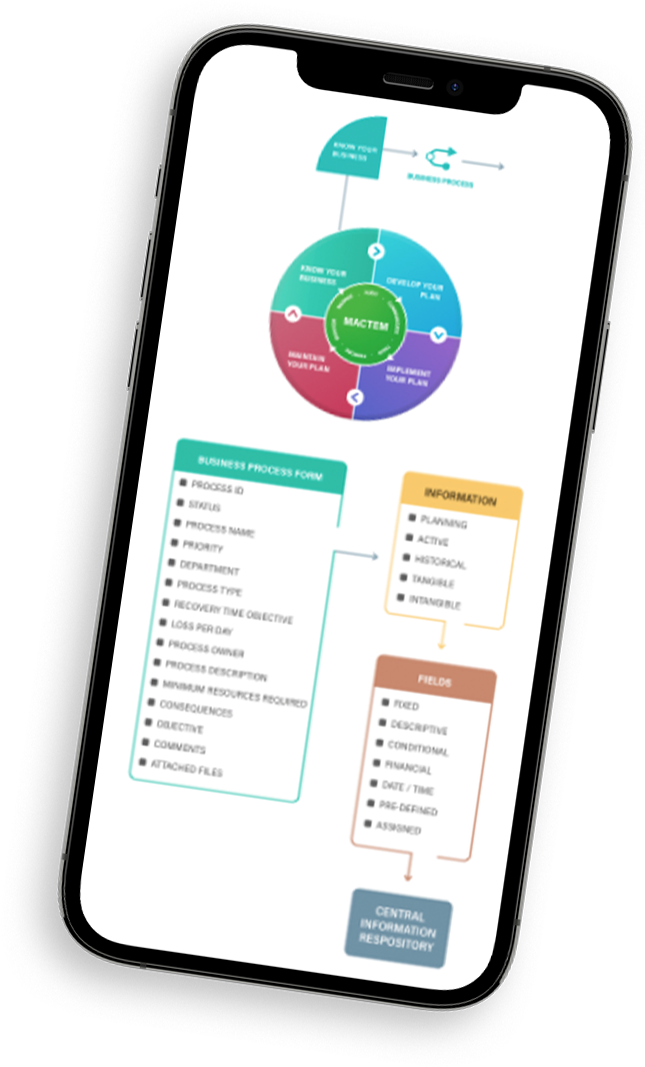 ---
The Business Continuity Management System Stages are:
What Is a stage?

A grouping of related modules designed to achieve a high-level objective of the Business Continuity program. The Business Continuity Life-cycle consists of 4 "Stages" (Know Your Business, Develop Your PlanImplement Your Plan Maintain Your Plan )

What are forms?

The majority of the 'modules' contain 'forms'. A single form is created for each item. For example, each 'resource' has its own 'form' (ID). Forms contain all the information about your Business Continuity process

What Is Active Information?

Relevant and current information required for the successful maintenance of the Business Continuity process. Information that requires regular verification and status checks.

What Is Planning Information?

Who, What, When, Where, Why, and How to do something?

Financial

Information of a financial nature can be analyzed to develop a financial breakdown of the Business Continuity process.

Field

A specific position within the database that contains information.

Date / Time

Information that can be used for displaying on a Timeline / Calendar to get an overview of the Business Continuity Process.
Module

Each "stage" consists of various "modules" that contain specific information (forms). This information is shared (assigned) amongst the other modules when required. Modules are a group of forms. For example, the "Assets" module contains a list of all your Business Continuity relevant Assets.

Information

Describes the various types of information contained within the forms.

Historical Information

Information that was once relevant to the plan. The information has been verified and is maintained within the plan to facilitate an Audit Trial.

Tangible Information

A value that can be placed on the information residing in the module. For example, a Printer.

Fixed

Information that is typically selected from a fixed drop-down list or is automatically generated by the software.

Conditional

Information that is filtered through a Conditional process. For example, Insurance Coverage Status can be calculated by 'Covered = Today's date < Expiry Date.'