---
Easy to follow Modules

The application consists of a number of modules that provides an easy to follow process that can be implemented at all levels of the organisation.

ContinuSys combines commonly applied principles of crisis management and disaster recovery planning with unique and very powerful planning features. The product was designed to eliminate the complexity and training required to use a software product as a business continuity tool.

Organize & Manage Project

ContinuSys Business Continuity Management System will help you organize and manage your Business Continuity project data, which is vital to controlling your Business Continuity project's cost, schedule, and overall success.

Because our tool is easy to install and use, your can immediately begin identifying, analyzing, prioritizing, reporting, and effectively managing your Business Continuity project.
Relationable Database App

continusys Business Continuity Management System is a Relational Database application delivered via web that serves as a centralized warehouse for archiving, tracking and managing your Business Continuity Project.

It utilizes standard Business Continuity Management terminology and supports Business Continuity Management processes that are prescribed by the leading industry standards.ading industry standards.

Enable & Support essential communications

while you build your Business Continuity Management framework, Continusys Business Continuity Management System will enable and support essential Business Continuity communications up, down, and across your projects functional areas and will serve as the glue that binds your Business Continuity Management activities throughout your Business Continuity project's lifecycle.

ContinuSys Business Continuity Management System provides standard database functions to add, update, and delete your Business Continuity information.
Agile & Mobile
Business Continuity need to be agile and Mobile. This is why we built ContinuSys BCM to be accessible via Mobile and Tablet Devices.

Your team will experience the same or very similar fidelity when using ContinuSys Mobility to manage your Business Continuity Projects.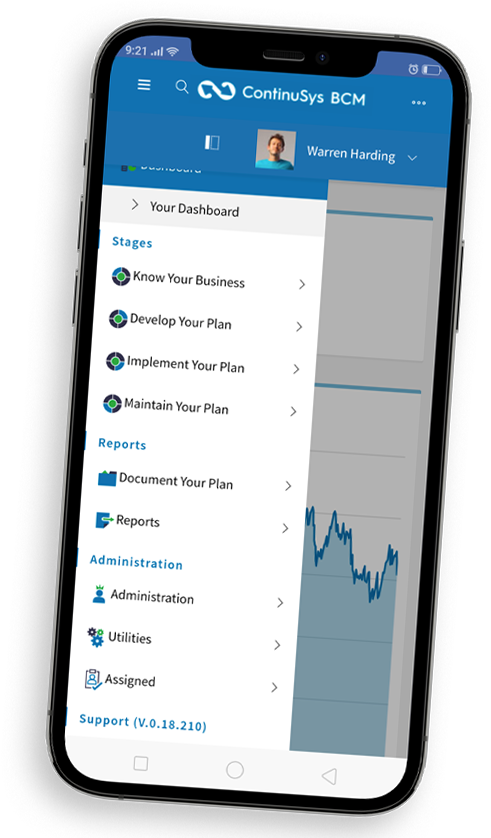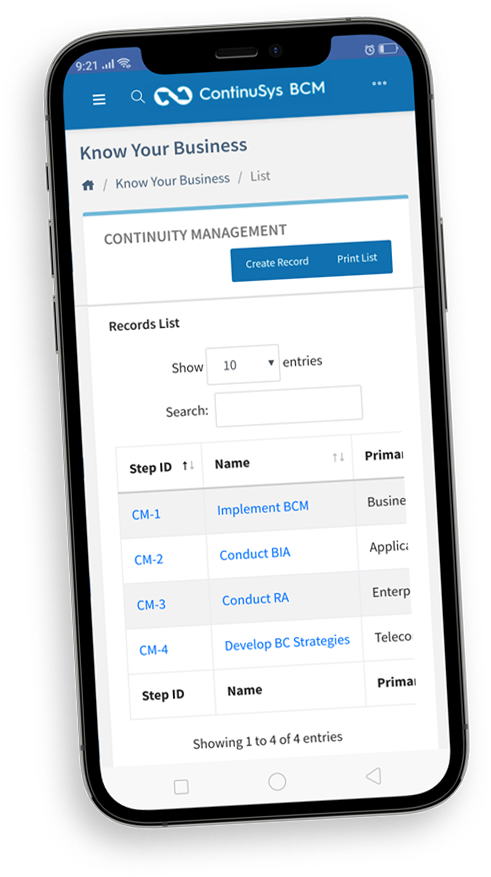 Design for a Modern Workforce
Designed for the modern workforce, our Mobility applications work on Android or IOS devices.

Its been designed to mirror the workings of the Web application in its closest possible rendering to ensure your users will have minimal time for adoption into Mobility as well as a low learning curve


Data Resilience. Emergency Response
Two words that are essential in times of crisis. ContinuSys Mobility applications are designed to be data resilient, with local encrypted device storage to enable entry and access to pertinent data during a crisis that entails a loss of connection with the cloud.

Once a Telco or Local Area Network is connected to the cloud, any data created or modified on the devices local storage will be synced to its cloud host – Ensuring your plan remains up-to-date and properly documented.